Music Theory Software
C.A.T.S. (Computer Aided Theory Skills) is the music theory software to have if you want to learn music theory the fun way. Designed to help both teach and test music theory up to and including grade five.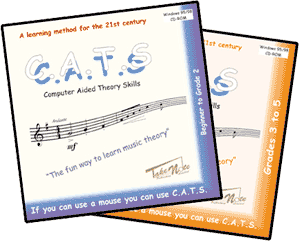 Whatever instrument you are learning, you will need to know music theory to be able to play and understand music well, but unfortunately it is often a neglected subject.
C.A.T.S. solves this by making music theory fun and simple to learn. Presented in an interactive and easy to use way, C.A.T.S software is packed with information and tests, with over 25,000 possible music theory questions. You can use it again and again.
From Beginner right up to Grade 5
Help with both music theory exams and practical instrumental grade exams
Covers the Associated Board, London College music and other theory syllabuses up to grade five level
Suitable for players of all instruments, and for singers
Supplement traditional music lessons, learn on your own or use in a class
It is a requirement of most examination boards that you need to pass grade 5 theory in order to enter for the higher grade practical examinations. C.A.T.S goes a long way in making this task easier, particularly if the subject has been neglected in the early years. You can learn, revise and prepare for the grade five music theory examination in a very short space of time.
Find out more...
Have a look in the info section of this website for all the details about the C.A.T.S software.
Check out the screen shots to see what it looks like.
For reviews and to see what other users have said, see the comments page.
See the music theory software technical support page to see if C.A.T.S software will run on your computer and for any other technical help.
Multi-user licenses are available for schools and other educational groups. For details see the schools page.


Schools can purchase C.A.T.S using their eLearning Credits
Learn music theory the fun way